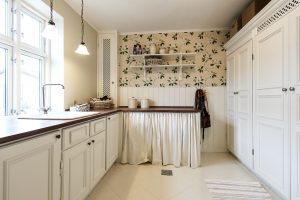 The very best utility rooms have qualities that they take on from their owners. They include places for storing boots, hanging coats, and house pet baskets for those who love the outdoors. They also can serve as a secondary kitchen for storing cumbersome pans and pots, a sink and an extra refrigerator-freezer for large families. For many people, it is a place for bulky laundry appliances, which frees space up in the kitchen and keeps noise out of the main part of the home.
The best thing of all, if planned carefully, utility rooms make life much easier. According to Dom Roberts from Touch Design Group, a well-designed utility area can help to take the stress away from having to deal with daily chores and make them more efficient, and practically pleasurable when you have the right design. It is all about creating a working environment that is beautiful, functions perfectly and feels nice to be in.
For design success, follow our best tips.
Things to take into consideration when you are planning to extend
How are you going to be using your utility room? If you are going to be storing food inside of it, be sure you have easy access from and to the kitchen so you can grab any ingredients that you need while you are cooking. If a washing machine is going to be housed in there, then you will need to have a door to go outside to hang up the washing. Carefully consider the plans you have for your room so you will be able to design around them. Also, do you want it to match your current kitchen? Kitchens in Surrey have a great range which means you are likely to find something which matches your current kitchen.
Maximise your existing space
It might not be necessary to extend your house to make room for a utility room. Instead, you may want to explore whether you can section off part of the kitchen by adding a doorway and constructing a partition wall (if you will need to sacrifice too much space inside your kitchen don't do this since it could reduce your home's value).
Another possible option is using part of your adjoining garage if you have one. Depending on what size it is, you might be able to split this space or get rid of your garage and use the space for a large utility room instead. You don't need to worry about planning permission for something like this. It will likely be covered under something called permitted development, but you still need to alert the local authority.
Where is the best location for your utility room?
Many of us have a tendency to think that a utility room should be on the ground floor. However, they work best when they are located in an area where they will work the hardest. For example, if you will be using your utility room mainly for ironing, washing, and drying, then Lisa Melvin from Lisa Melvin Design advises that you put it upstairs close to the bedroom so that you can redistribute the laundry easily once it is dry and clean.
When the laundry room is upstairs, you might want to consider having a boot room in the downstairs area that has lots of storage for muddy shoes and wet coats. Lisa recommends adding a small shower for washing off muddy pets and sports equipment.
Is there no space available for a utility room?
If you have a limited amount of space, you can also use a utility cupboard inside your kitchen, although that means you will not be able to keep your washing and cooking separate. Or you can look for a spot for a utility cupboard in a place where you have dead space like in a hallway or under the stairs. Just be sure there is access to drainage, water, and electricity.
Also, don't overlook existing rooms in your house. Lisa says that washing machines are often installed in bathrooms by Europeans. They can also work well in a guestroom.
Plan your space
It's essential to have plenty of storage space inside a utility room. It helps to keep the area orderly and helps to ensure that it works well to fit your lifestyle. Carefully consider which items you will be store in there as you are planning your storage – will it be laundry products only, or kitchen utensils and food as well?
Either way, choose full-height cupboards in order to maximise the space and provide storage for tall things like brooms, mops, and ironing boards. It is a good idea to have plenty of drawers for items like batteries, fuses, and bulbs, so you have a well-organised space for spares.
Also, make sure to plan an area for storing coats and shoes if this space will be used for accessing the outside of your property. You might even want to include a bench for sitting on when people are taking off their shoes.