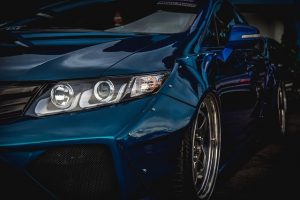 To support the weight of any vehicle, there are typically four coil springs that are going to support it, which means that all of the coils must be equally as strong. The springs are designed to move at a specific rate when encountering bumps, something called a spring rate that will help passengers maximize their comfort.
Shocks and springs are typically made up of a couple of different components which are used to react to bumps that you will encounter. There are shocks that will be mounted within the coiled springs. Referred to as a Coilover shock absorber, it is part of the suspension setup.
A Coilover will likely be found in most vehicles direct from the factory, yet there are aftermarket options that you can also consider depending upon how high your ride is, or if you want to alter spring rates which can maximize your overall levels.
The top portion of these springs will be positioned right below the top hat, or the spring perch, of the Coilover, whereas the bottom portion is going to be over the lower control arm. This is the part that will assist you in keeping your wheels in place.
By positioning these over the lower arm control, you will have all of the shock being absorbed in the bottom. By doing this, people inside of the cabin of the vehicle can maintain levels of comfort even as you drive through or around obstacles in the road. Before you may go into the main article you may be interested in seeing 'car suspension'.
Top Three Bad Coil Symptoms
If you do have a vehicle with bad coil springs, there are noticeable symptoms that you will detect as you are driving around. You are going to recognize them, and once you do, this should be immediately rectified.
These are the three most common signs that your coil spring is becoming faulty.
1) Sagging Corners
The corner of the vehicle may begin to sag, or in some cases just appear lower, if you do have a bad coil spring. You can notice this by simply observing your vehicle from the outside.
However, when you start to drive, the amount of stability that you have is going to be very noticeable. Symptoms of this problem can become worse over time, especially if there is excessive wear and tear on the tires.
2) Vehicle Is More Bouncy
Coil springs are designed for the express purpose of avoiding bouncing or shaking as you are moving down the road, especially when going to areas where there are potholes. When this occurs, it will be difficult to control the vehicle.
You need to take count of this as it is happening. Bad shocks will simply not be able to absorb properly, and this will lead to the rebounding of the spring, making your car simulate the feeling you would have if you are bouncing on a trampoline.
3) Uneven Wear And Tear On Tires
Coil springs should be able to keep your tires and contact with any surface that you are driving on. Tires that receive equal amounts of wear and tear on the road are a sign that your coil springs are functioning fine.
If you do have coil springs that are not working properly, you may experience your vehicle tires leaving the road from time to time, and this is only under regular driving conditions. If this occurs, you will notice that the treads will become uneven and prematurely begin to wear down, making it more difficult to stay on the road. It's important to replace tires regularly, and do tire rotations, which can also help with maintaining your ability to drive smoothly.