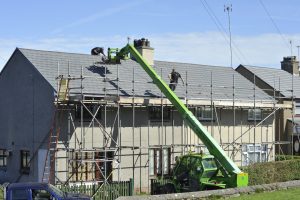 Coronavirus is a global pandemic – and has affected millions of businesses from different parts of the world. What does this mean for the scaffolding industry?
With more than 100,000 people reported to have the virus (and counting), the COVID-19 virus continues to affect more people in different parts of the world, and the United Kingdom isn't exempted.
Last Tuesday, the government has desperate measures to slow down the spread of the disease, with drastic measures taking place in the UK and other parts of the world. Some of these measures include the closing of public places, events are canceled, schools are closed, large and public gatherings are prohibited, and people are now encouraged to work remotely, from their homes. However, in the scaffolding and construction industry, all of these things aren't possible.
With constructions being closed down, it has been reported that approximately 80% of workers in the said industry will not be able to work – not because they can't, but because they are prohibited from doing so. Other major companies such as Wako Kwikform will start to give out instructions on how they will proceed with their operations, given the current situation.
There is no question that the Coronavirus has been greatly affecting the industry – and the construction industry isn't the only one affected. Other major industries have also taken a hit with it. According to recent reports, one of the workers from Hinkley Point C has been tested positive for the virus.
Based on what's happening and how things are turning out, it has been said that supply chains will have a major impact. When it comes to the scaffolding and construction industry, the majority of materials such as tubes and fittings come from China – the main centre of the deadly COVID-19 virus.
According to the company, the business and its model has been laid out in advance. With the current situation, they will be able to make use of their entire production capacity to make things happen until February. While this is being done, they'll continue on working on areas such as expanding stocks to their factory based in Germany, alongside 140 other centres globally.
Layher mentioned that this business plan is put into place so that they get everything taken care of during the winter season, which gets them ready for production during the peak season – which is during spring and summer. Layher UK reported that they have increased their stocking capacity.
Because they have overstocked their supplies, the majority of their raw materials aren't dependent on the stocks coming from China. With that being said, they have everything taken care of, and business will resume with the production as usual for the next coming months.
The Lockdown And Its Effects
Because of the lockdown, all scaffolding training courses are now put into hold – not just in the UK but in different parts of the globe as well. This means that scaffolders from various parts of the world are now waiting until they can get the training that they need. Scaffolding training plays a crucial role in maintaining the highest standards of scaffolding safety. Unfortunately, Scaffolder CPD units and courses aren't readily made available to everyone, which leaves scaffolders to put their learning into a halt, for now.
This is also applicable to old scaffolders as training is essential not just to newcomers, but even to those who have been in the industry for years. As the industry changes, new methods are put into place, which is why training is also crucial even to the experts and professional ones. With the stop in the learning process for scaffolders, various experts have tried to look for various ways on how they can continue with the training considering that there are a few restrictions and lockdown rules to take into consideration.
The Construction Site: COVID-19 Procedures
Ever since the COVID-19 pandemic started, the government has been continuously reminding everyone to keep their distance. However, in the construction industry, some people require being in close distances to be able to efficiently work. While this hasn't been stopped by the government, there are recommended restrictions that have been put into place.
This has been a very challenging time for everyone in the industry, but these are performed to avoid the risks of contracting the virus, especially from those people who work in construction sites. Maintaining a safe distance, as much as possible, should be observed. Prevent physical contact as much as possible, with some generic instructions on how to proceed working in the workplace while there's still a global pandemic in place.
We make sure that we provide our clients with proper documentation, such as the "Guide For Scaffolders" with revisions to take place with the current events. Some changes include major safety protocols and some standard operating procedures procured by the Construction Leadership Council.