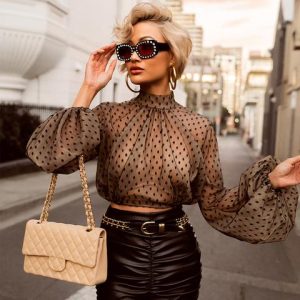 All the world's biggest fashion brands, designers, editors, and everyone else involved in this dynamic and fascinating industry are currently preparing to showcase their most creative ideas and their best creations, in order to set the trends for autumn/winter 2019 season.
Fashion speciasts in plus size corsets, brings you the insider information. The last fashion shows have featured tight pleats, giant hats and shorts, this being the reason why we all wear them this summer. However, the end of this year appears to be completely different. As a matter of fact, we are all going to see a lot more OTT.
There will be a wide range of OTT prints such as argyle knits, daring floral patterns and clashing cheques. Ruffles, puffers and attention grabbing sparkle will also dominate the trends for the next season. You'll need to brace yourself for a wardrobe upgrade to be as sassy as this season will demand.
Here are a few of the autumn hits we'll all be wearing this year:
1. Unapologetic Floral Prints
The truth is that floral prints have never gone out of fashion. Even so, this season they are more apparent than ever, with trends that include various full floral looks. Even face masks will be part of these trends. You can follow the example set by big brands and renowned fashion designers and choose styles with a less obvious base colour and vividly coloured floral petals scattered across.
2. Oversized Bags
We've had enough of those seasons that made us cram only our very basic belongings into tiny totes that could barely accommodate anything else but our phones. This autumn/winter fashion will bring back the giant bags that fall more on the practical side, allowing us to carry with us all items we need.
3. Cheques All Over the Place
Clashing prints were the craze of the last season. We wore polka dots with stripes and we were proud of our outfits. For the next season, though, the trends appear to be more on the safer side. For the autumn, we will all wear cheques, and we'll only play around with colours a little.
4. Tiered Ruffles
I told you to get ready for the unexpected… time has come for you to take your ruffles to the next level. One single layer is no longer enough. The next season, we'll all look like those 1920s lampshades at cocktail parties and other such events. For a maximum of impact, keep your hair pulled back, to make your tiered ruffles the main point of attraction.
5. Waist Belts
A small waist is always going to be a beautiful trait. Nonetheless, it has been forgotten in high fashion circles, as designers and brands preferred rather undefined silhouettes. Next season will bring this big change, allowing us to wear those classy waist belts again. We will wear them with dresses, knits, coats, and anything else you can possibly imagine.
6. Brown Leather Coats
Even if you didn't pay full attention to fashion week this season, you might have noticed the tonal camel hues are here again. The end of this year will see this shade in sweeping midi coats and high-end leather items.
7. Pointed Toes
Pointed toes are here again, so start reading up on your Angelina Ballerina! You'll understand the meaning of Arabesque, Echappe or Demi Plie…
8. Argyle Knitwear
Argyle knits once were the favourite style of middle-aged golf players. In terms of fashion, this style had its ups and downs. The most popular runways have brought argyle knitwear back in favour this end of year. Fortunately, it will only include cardigans and jumpers that you'll be able to pair with classy shirts to create the perfect outfit for your days in the office.
9. OTT feathers
If you can't stand sequins, you can add a bit of glamour to your look with OTT feathering. Going full-feather will require you to become comfortable with a bulk look. A feathered coat or a feathered dress will surely turn heads on the street and at any social event.
10. Corduroy Suit
If you payed close attention to the latest fashion trends, you may have noticed that corduroy has been slowly but surely coming back. By the end of this year it will probably become mass-market, so get ready to welcome it.