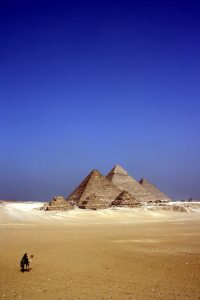 Are you thinking about going to Egypt? Here, you will find relevant information to make the most out of your visit and guarantee a smooth stay in the country. Even better, you will know what to do with customs and how to avoid challenges during your stay.
What Are the Vaccinations Required for a Trip to Egypt?
You need to consult your local health practitioner before visiting Egypt to make sure you have all the necessary vaccinations before the trip. Some of the recommended vaccinations before the trip include Hepatitis A. Diptheria, Tetanus, Rabies and Typhoid vaccines are highly recommended.
Can You Drink Tap Water While in Egypt?
You can actually take tap water in Egypt but it is highly chlorinated. Therefore, you are advised not to drink it because it's likely going to cause stomach upsets. You can find bottled mineral water in shops, hostels and restaurants at a very affordable rate. However, you can use the tap water to brush your teeth and shower without any issues.
What Type of Food Should I Expect in Egypt?
Egyptian cuisine is something to marvel it since it has grilled meats, fish, vegetables and much more. It's appealing to a lot of people but if you want to avoid stomach upsets in the new area, you should take a few precautions. For instance, the tap water is highly chlorinated so you should avoid taking salads unless you are eating in the top tier restaurants, cruise boats or hotels. Make sure you eat hot food to make sure it's well-cooked. Don't take any food that looks like it's been around for a while.
Is Bargaining Very Common in Egypt?
Haggling and bargaining is a very integral part of shopping in any markets and bazaars found in Egypt. Most vendors often inflate their prices so there is an exchange of numbers back and forth until both parties agree on a price. If you are buying anything you need to mention a very low price and work upwards but have a maximum amount in your mind.
What to Buy When in Egypt
Imagine Egypt as an Alladin's cave. While in Cairo, you can visit the famous Khan al-Khalili bazaar to get unusual and everyday objects. You can also check bazaars and smaller souks to see what's available. Don't forget to check other towns too. Some of the top things you can purchase include brass wear, cotton shirts, mosaic lamps, leatherwear, mirrors, handcrafted sheesha pipes, backgammon boards and much more. You will always have something to bring back to your people at home.
Cultural Hints and Etiquette in Egypt
Women need to check what they wear when in Egypt. Men should also wear trousers and keep their shoulders covered to keep in line with the local dressing customs. Shorts are only acceptable when you are near the beach resorts but most people ignore this rule. If visiting a mosque you should be completely covered and women need to wear a headscarf. Before entering the mosque, you should remove your shoes.
Can We Go to Egypt as a Family?
Yes, Egypt is an ideal destination to visit with your family. You can check out the tombs, temples, pyramids and much more. The country is rich with history and architectural wonders. There are also other exciting experiences such as Nile cruise and stay, camel rides, felucca boat trips and much more.
What Currency is Used in Egypt?
Egyptians use the Egyptian Pound (LE) as the main currency. It is divided into piastres. Banknotes usually come in denominations of 200, 100, 50, 20, 10 and 5.
What's the Cost of Things in Egypt?
You should be prepared for the competitive prices for most items in Egypt. In 2015, the country was ranked the cheapest country in the world for international visitors based on the hotel prices, purchasing power parity and taxes. Dining and wining out are a bit more comparative but you should expect to pay about $10 for an affordable meal while the top tier restaurants cost about $30.
Enjoy your trip to Egypt!