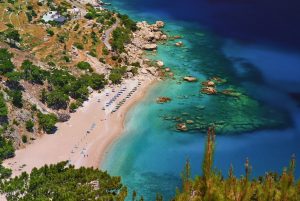 Europe is one of the ideal places to take into consideration for your next holiday – this is for a very good reason. Europe is home to stunningly beautiful beaches and breathtaking coastlines. So, if you're dreaming about spending your holiday on golden sands, admiring the clear, blue waters, you've landed in the right spot – check out these best beach holidays in Europe.
Valencia, Spain
El Saler beach is one of the best in the city and great if you've headed to Spain for a stag do in Valencia. It is just half an hour from the centre, at the southern end, and is easily reached on public transport. After a night partying, and perhaps a bit of time spent soaking up the city's arts and science attractions, you'll probably be ready to relax on El Saler's massive stretch of golden sands.
Mykonos, Greece
Many celebrities choose Mykonos for their holidays and it's easy to understand why. You don't need to be an architect or an artist to appreciate the hills scattered with whitewashed buildings characteristic of Cycladic islands. Mykonos is the number one choice for a glamorous holiday and a must-see for those who enjoy nightlife or shopping. Many night clubs here feature renowned DJs and designer shops for those who want to spoil themselves.
The island is famous for its fun and laid back atmosphere, but also for its cultural heritage and sightseeing opportunities. The Archaeological Museum of Mykonos is home to exquisite artefacts dating back to prehistoric times. If you prefer modern art, you may want to visit the Rarity Gallery to admire contemporary art at its best.
Menorca, Spain
The island of Menorca is a paradise with crystal clear waters and home to some of the most amazing beaches in Europe. Cala Mitjaneta beach is well worth a visit – in spite of its relatively small size, this beach is the ideal location for a romantic getaway. The calm waters, the fine sand, and the sunny weather are good reasons to add this beach to your Menorca bucket list. The cliffs surrounding the open, blue cove offer excellent photo opportunities, so make sure you pack your camera.
Cala Mitjana is very close to Mitjaneta and equally as beautiful. You can swim between the two beaches and make the most of both. Thanks to its secluded nature, Cala Mitjaneta is perfect for those seeking quiet and peace.
Karpathos Island, Greece
Karpathos Island is located between Crete and Rhodes. Kyra Panagia and Apella are among the most beautiful beaches on this island. Although popular and easy to reach, Apella beach boasts a calm and serene atmosphere. This beach has a natural frame made of cliffs, huge rocks and mountains. The green vegetation and the blue waters make a wonderful contrast. Once you get to see this beach, you may never want to leave. There are food and drink facilities nearby, so you can relax here for a full day.
Kyra Panagia is a bit more crowded but it is closer to hotels and holiday villas, making it popular with tourists. People want to have all the comfort and everything they need at their fingertips, so that they can enjoy sitting on the beach and getting a tan without worrying about their dinner options. Furthermore, this is the perfect beach to bring your kids to, as it offers a wealth of food and drink options, and comfortable sun beds.
Patara Beach, Turkey
Whether you're on a holiday with kids or going solo, you'll find Turkey welcoming and relaxing. Turkey offers a wide range of beaches to choose from, but Patara is arguably the best of them. Its wild appearance and warm, clear waters make Patara the perfect place for those who want to run away from the mundane. The beachfront ruins and the turtle nests make development rules extremely strict, hence the natural and untouched appearance of this beach.
You won't have to worry that you'll be too far away from everything though. The enchanting village of Gelemis is only a mile away, so you can always take a nice walk and enjoy traditional Greek food in one of the many restaurants in the village.
As you can see, Europe has a generous offer when it comes to beaches. Ayia Napa and Makronissos beach are also worthy of your bucket list. Here you'll have the opportunity to enjoy a wide range of water sports and to visit the archaeological sites for a glimpse into the local history and culture.