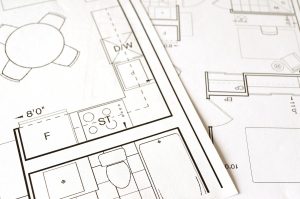 There are certain seasons that are better for renovation projects than others, depending on the type of project and the weather. During the middle of a sub-zero, frigid winter, you probably won't want to replace your patio doors or windows.
According to Carl A. Smith, a licensed contractor, CliqStudios designer, and NKBA MN Chapter president, there are definitely building seasons in cold climates where the ground freezes and it snows. He says it is similar to road repair. It takes place during the summer, stops during the autumn, and then starts up during the spring again.
However, according to Smith, an exception to that is inside work. Kitchen renovations, bathroom remodels, and basement projects can all take place throughout the year. He says that if the project does not compromise the envelope or remove windows, then it can be done at any time.
So, in other words, it's game on if your indoor renovation will not be disturbing the building's foundation, roof, windows or exterior walls.
However, many homeowners still like scheduling their kitchen remodels during the spring or summer, which leaves contractors looking for work in the winter. So, it's usually easier to get a general contractor booked during the winter season.
Other considerations
In addition to climate, the following are some of the other factors you should consider when you are getting your kitchen renovation scheduled:
Your family schedule
Consider planning your remodel at a time when it will be the least disruptive to your household's daily schedule. The kitchen is the heart of the home, and it can be very inconvenient to transform it into a construction zone. Many families choose to do their remodelling during the summer due to the flexibility that is provided by being able to send the kids to the grandparents or eat outside more often.
Your eating plans
Eating out every day can get tiring and expensive. You will want to have a temporary eating arrangement planned while your kitchen is being renovated. For some people, a microwave and mini-fridge along with a simple work table will work just fine. The perfect solution for other people is a BBQ when it's warm enough.
Special events and holidays
Are you trying to get your new kitchen scheduled before Christmas, a party, or another special event? To replace grey granite worktops and cabinets will take a few weeks. However, if you will be having building inspector visits, replumbing, rewiring, and changing the wall coverings, then that would take at least two or three months.
Smith says that the scope of the work is a primary consideration. He says that an experienced homeowner or contractor will need to have a good understanding of the construction sequence and be able to work backwards from the planned completion date.
Special deals
As recent kitchen remodelling projects have pushed the average cost to over £17,000, clearly homeowners should be looking for a bargain deal. One good time to look for discounts on your major appliance purchases is Black Friday. However, for industry-specific sales, watch for spring promotions in April and May. Even if you are not planning to install immediately, purchasing and storing materials and products ahead of time can help to ensure that your project runs smoothly in the future.
Product lead times
Hand-crafted designs or custom cabinetry that uses exotic materials can easily have lead times of three months or longer. On semi-custom cabinetry, you can expect a 4 – 6 week wait from ordering to delivery. As you are considering the timeline for your kitchen renovation, remember that products will have different lead times based on their current availability.
Your planning process
The best time to get your kitchen remodelling project scheduled is ultimately after you have it thoroughly planned out. It requires research to start on a kitchen project, along with speaking to professionals, budgeting, setting goals and shopping. After you are comfortable with all of the processes, pieces and parts that have to come together to create your dream kitchen, nothing can stop you – not even freezing weather.