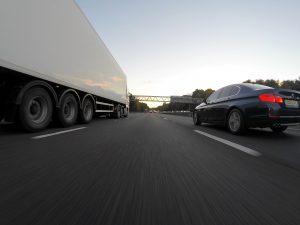 If you drive on our motorways frequently, you will have grown accustomed to HGVs by now. In some cases, you will have grown accustomed to HGVs sighting in some of the normal motorways. Driving alongside HGVs is far too common for many of us that we never take a second thought about them.
Some are branded with big logos plastered on the side of the HGV that you will instantly have an idea of their contents. Others a blank, with no signage whatsoever for you to use understand what they are transporting. This is a foundation for a very interesting game for those long road trips – 'guess what's the HGV carrying'.
The fact of the matter is, the vast majority of us do not fully appreciate the role of HGVs in our lives. We take these vehicles for granted, not appreciating that our economy and to a large extent, our lifestyle is dependent on their services.
The Vast Majority of Goods in the UK Are Transported by Road
A surprising fact that very few people know is that 98% of goods consumed in the UK are transported by road. That is everything from simple and mundane items such as clothing, foods, and drinks to larger items. Road transportation is the cornerstone of our economy. It is fair to say that without road transportation, we would be in trouble. And since many of these items are imported from the common market, the haulage industry is naturally worried about the impending Brexit.
They Are a Source of Hundreds of Thousands of Jobs
The haulage industry provides over 600,000 jobs to UK residents. There are over 600,000 drivers who currently get their income from the transportation of goods. Unfortunately, there is huge gender inequality currently experienced in the industry, seeing that only 1.2% of all HGV drivers are female.
Even more worrying, the industry still faces a high driver shortage. Moreover, logistic businesses reckon they will find it even harder to fill the 36% vacancy with the qualified drivers. They also estimate that 15% of vacancies, especially the HGV Cat C licence vacancies, will not be filled at all.
Huge Haulage
So far, we have learned that the UK economy is heavily reliant to HGVs and that the haulage industry is a huge employer directly as it employs a lot of drivers. However, there is indirect employment created by haulage processes. There are those employed to load and unload pallets in the warehouses, there are warehouse managers, and there are logistic planners and many more. In total, the haulage industry is estimated to employ over 2.5 million people. As such, the haulage industry is estimated to the fifth largest employer, behind the NHS, the military services, and the HMRC.
Put Your Money Where Your Haulage is
Aside from being one of the largest employers in the country, the haulage industry also stands out for being worth a lot. The latest estimates, the haulage industry is worth £124 billion. When the call the transportation industry the cornerstone of our economy, it is not an exaggeration. The haulage industry brings a lot of revenue to the UK industry every year. Importantly, the industry is growing and the revenue contribution is increasing. That said, the full effects of Brexit is yet to be analysed and many experts are not sure what the future holds for the haulage industry.
Age Ain't Nothin' but a Number
The haulage industry attracts people from all walks of life and people of different demographics. There are male and female drivers. There are former insurance salesmen as well as those who went straight into the industry immediately after school. There are old and young drivers – in fact, the average age of HGV drivers is 48 years. 13% of the HGV drivers are EU nationals, whose continued residency is not guaranteed after the completion of Brexit.
Heavy Goods Ahead
As we complete this read, you have probably come to appreciate the heavy good vehicles and the industry they serve in. However, when it comes to matters of heavy haulage, it does get impressive. For instance, there over 524,500 vehicles with a rated load of 3.5 tonnes in the UK. Each of these vehicles can haul an adolescent African elephant. 250,000 of these registered vehicles are driven by Road Haulage Association members, which is the epitome of quality in HGV drivers.