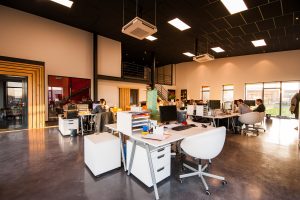 Everyone knows that looks aren't everything. But when it comes to an office, where one spends a huge amount of time, it helps to have something that is appealing to the eye. Additionally, it helps to have a fun work environment and one that inspires employees to work better every day.
UK employees want an office with more than free tea and coffee. They want office space – with options for open-plan, collaborative working or for more private office partition systems – that motivates them to be the best they can every day. Here is a look at offices that embody all of these things.
Dr. Martens
The Office: The Camden Dr. Martens office thrives with the sound of music coming from a giant amp wall in the reception area. It also features themed meeting rooms which are centred around musical genres such as Indie, Punk, and Reggae. Social spaces are arranged throughout and each of these has unique features like a stage with a drum kit or a video wall and bleacher seats.
Intimate social rooms have recording spaces with sound-proofing and "on-air" signs. This unique office also has coffee machines that make milkshakes. Employees can relax in well-being rooms or find inspiration together in the office's creative labs.
Employees Say: This office is home to an amazing brand with amazing people behind it all. Benefits are great and the employers truly care about their staff as well as their customers.
Reward Gateway
The Office: This place took a year and a half to be built and the thought that went into it shows. It is arranged for employees to engage together and feel at home. Each employee can choose where to sit.
The bathrooms are gender-neutral with products from Aesop and ghd. A Tracy Emin Be Brave art installation is the cornerstone of the office's Cafe.
Employees Say: The company has an approach where the work environment encourages people to do their best every day. The benefits are flexible. Some of these details are easily taken for granted but most employees appreciate not having to show up to work in a suit.
ASOS
The Office: Formerly a tobacco factory, this company's Camden headquarters features a naturally lit, modern, art-deco interior. The furnishings are modern, and the wallpaper is bright and funky!
Employees Say: You can work off any ideas you have. The office encourages freedom and ASOS hires inspiring leaders. No one micro-manages here. The office is a great space in a great location. Benefits are amazing.
Gamesys
The Office: Enter the reception area and you will be greeted by a huge offering of sweets from a giant monkey. Breakout areas offer fridges with plenty of beer and soft drinks. Pool tables are favourites with employees.
Christmas time offers delights such as circus acts entertaining employees alongside Mexican wrestlers. The office is all about fun. Its cool vibe encourages employees to work productively.
Employees Say: Salaries are competitive, and the benefits are amazing. You get bonuses, discount schemes and parties. The office thrives and offers a unique take on the gaming world, as well as the business world in general.
Skyscanner
The Office: This office culture is all about experimentation. Workspaces are quirky. Designated squad rooms are featured throughout. Horizontal pods offer employees dedicated spaces. Tuesday night yoga is an employee favourite for counteracting stress. There are table tennis games, and foosball, as well as an Xbox.
Employees Say: This is a fabulous place to work. There are many benefits including the yoga and mindfulness classes. Pensions and health plans are two great reasons to work here but so are the squad rooms. These places help everyone work out difficult problems and allow all team members to collaborate on an even keel.